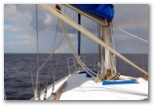 Paradise lost.
We finally got out of St. Lucia! Minor repairs. The ARC. New Year's fireworks. My brother's visit. A three month wait for the packages of books we had sent ourselves. One thing and another, St. Lucia was hard to leave. It is developing rapidly. The marina has been sold and the new owners plan megayacht parking and a lagoon lined with condos and paved with pontoons. On the north end of the island, construction (and destruction) of the bays and beaches is proceeding apace. Condo's for British spending pounds seem cheap as they promise a little slice of paradise and generous appreciation. Prices are at Berkeley levels but not yet reaching San Francisco heights. The fly in the ointment is the huge rates of unemployment and poverty that cannot be hidden by the tourist board. Since there is a limited supply of beach, selling it off to developers has generated a certain amount of resentment. Add to that a generally island attitude, tropical inertia and an ineffective police force. The island may or may not be able to transform itself into a playground for the wealthy. We shall see.
I'm surprised to find that Democrats can afford to cruise.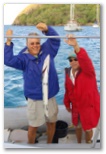 We spend a good deal of time with our Republican friends. They have become a little less triumphal recently and the Democratic (and Non-US) cruisers a little less defensive. There is a great deal of whining about crime and how great things used to be: better, cheaper, friendlier, less crowded, & etc. Reminds me of home. I'm astonished to note how much bitterness remains among our Republican friends over Vietnam which seems to come out now that the second (third?) big rematch with Evil is coming out so badly. Still, we are all cruisers first and blue or red second and we generally get along pretty well. I was invited along for a dinghy fishing tournament by a couple of Big Flag Republicans and, aside from a couple of references to Berzerkeley, we happily conversed about how to rig the bait and whether or not we should eat Barracuda. It is pleasant puttering around as the sun rises and vaguely wondering if the fish would be fooled by our defrosted ballyhoo with its bill wired to the line and a hook hanging out its ass. They are not fisherman of the hushed school of fishing (as I remember fly fishing on shore or bait fishing on a lake). The ocean, the birds, and the outboard make enough noise that conversation is not deemed dangerous to the fishes sense of security. I learned that R's can be every bit as isolated as the most moss-back Berkeley radical.
I won the tournament with a 37" barracuda. The prize was a beer presented by the losers at the Yacht Club but the side effect is that I have now redoubled my fishing efforts. For my birthday I got a fishing pole and some lures as well as well as the traditional apple pie.
Vive la difference
We dragged the lures all the way across from St. Lucia to Martinique with nary a bite. A great sail but no fish. In
Ste. Anne, Martinique I got my other birthday present: a long walk out to Saline beach, reported to be the most beautiful in the Caribbean. It is lovely. It backs on a huge salt pond with boardwalk and ample signage describing the wonders of nature (all in French, of course). The beach is lined with palms and has lots of shade to go with the usual white sand. Ample parking for hammocks and many lovely outdoor restaurants with little French chairs and tables set out in the shade. Depending on your interests there is a large beach with very well groomed and good looking men, a large section devoted to those of all shapes and sizes who seem to have misplaced their bathing suits and the aforementioned section devoted to gourmands. We spent time waiting for friends who had promised to give us the scoop on which was the best of the beach cafe's, by watching a very eye catching sales lady for swimwear. Very thin and with a Parisian deadpan pout, she would step in and out of a vaguely Arabic looking outfit. Basically clad in nothing but a G-string, she would wrap the light cloth this way and that transforming it from elegant evening wear to beach coverup. Like stepping through a series of magic tricks, she would cross the straps over her pert breasts or around her slender neck. Hands held in elegant poses, she would pirouette and show the effect from the front or the back. With unchanging expression, she would step out of the garment altogether and into a similar one with different cloth. The show seemed quite popular with a mixed audience and, though no one seemed to be buying the garment, no one was hooting, hollering or leering either. Vive la France.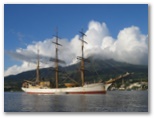 We headed up to Ste. Pierre at the north end of Martinique. Still no fish. Overnight in that lovely, sad city and off to Dominica in the early dawn. Just off the north end of Dominica we got another barracuda on the line. As usual, our successful fishing seems to coincide with approaching squalls and we had a brisk time of it hauling in the fish, and getting the boat slowed down in the increasing winds. With the winds rising, we were racing along on a reach holding our own with a catamaran trying to catch us when we got another bite. ZZzzzzzzzzzzt. Bang. 75 meters of line rolled out and the line parted in less time than it takes to read this sentence. I had just enough time to start to reach for the pole and the line was gone.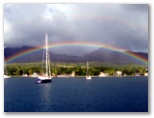 Are you from England or are you from Miami?
Dominica is lovely. We took another tour of the Indian River. We had already done the tour but there is something special about an early morning trip through the jungle watching for birds and listening to their sounds. You can hear because you must be rowed up the river (no outboards) by an official Indian River Guide. Pirates II was filmed partially here and Martin of Providence told tales of Hollywood in between naming birds and plants. The Carib Indians (who held out on Dominica far longer than anywhere else and hold a reservation here) did not like being portrayed as Cannibals. They also normally wear there hair long and do not like to cut it. The second problem was cured by a $500 EC payment. Martin was not in the movie because they wanted cripples and deformed people mostly. Hollywood can make an old stone building that looks like it has been there forever and equally quickly make it disappear.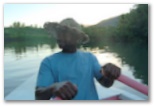 Martin on Providence, other boat vendors, a couple of restaurants and the dive shop have organized nightly patrols of the anchorage. This is in response to increasing fear of crime associated with the collapse of agriculture (no more protected banana market) and the increase in the number of yachties. Last year they began the patrols as a co-operative but found it was better for their own health and income to just hire someone to work nights while they concentrated on earning their living during the tourist season. It seems to be working. The main problem the islands have is that there are so few people. Dominica's total population is about 70,000 and the police are likely to know the miscreants socially or be related to them. The French solve this problem by importing their police from the mother country. The Anglophone islands hire expensive consultants at outrageous (by local standards) rates or getting grants for huge boats from the Department of Homeland security. The war on crime has been about as effective as the war on drugs. Smuggling has been a lively source of employment since well before the British blockade of America. Strategically located between the prime producers of cocaine and ganja and the prime consumers of same, most of the islands just try to keep the guns and violence offshore. However, when the Al Quaeda navy attacks, St. Lucia is ready. Plucky Dominica, on the other hand, has a guy in a small boat circulating all night shining lights on any suspicious activities and has not had any incidents in Portsmouth since they began.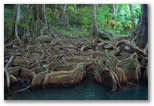 Race for Pannini
For some reason, every time we have crossed the passage between Dominica and Iles des Saintes, we do so at alarming speeds. Winds were forecast to be light so we went out with full sail. Roaring along on a beam reach, spray flying the 15 mile passage is over in no time. This ride is exhilarating (though wet). The water flying off the jib makes lovely little rainbows to leeward. At the Guadeloupe end of the ride is a narrow break in the reefs we have plotted on the GPS. Screaming through at over 8 knots in gusty winds, we are sharp on the lookout for fish traps. Marked only by a cluster of plastic bottles, we don't want to pick up the trap and line on our keel. Susie keeps one hand on the mainsheet as we pass through the entrance. Since we are constantly in danger of rounding up in the gusts, she stands ready to release the mainsheet and prevent an out of control turn to windward. All this salty talk translated: "Big Fun."
Why not just reef down? Drag a lure at a rate slow enough that a fish might actually bite? What happened to "Island Time"? There is a shop in Bourg de Saintes, the capital of Iles des Saintes that sells Pannini and ice cream. Basically it is a ham and cheese sandwich but: what bread! What ham! What cheese! Toasted and melted and pressed to perfection. A perfect lunch. The catch, you must get there before noon. This being France, everything is closed for two hours at lunch. Getting anchored, getting the dinghy put together and getting ashore must all be done before the witching hour. What's a little spray in your face?
Lance & Susie
S/V Eaux Vives
Isle des Saintes, Guadaloupe, FWI