Useful Links
S.F. Info plus cool real-time boat positions from AIS
Wind annd Tides for S.F. Bay trip planning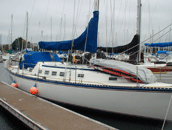 Mostly Harmless at the Dock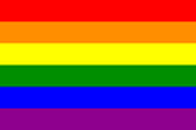 Gay Pride Flag









































Click on a wheel for further information on historical sites. Click on the history book for brief historical essays on the area
Sailing conditions in San Francisco Bay can be somewhat challenging. We normally have a cold marine layer sitting off the coast and a huge Central Valley running down the center of the state which regularly has temperatures in the summer exceeding 100 degrees. The result (besides our famous fog) is a very reliable summer wind machine regularly producing winds in the 20 - 25 knot range in "the slot", the area inside the Golden Gate Bridge. Add in an ebbing current which can reach 6 knots and you produce some sharp chop. Winter is a little dreamier with light winds, flat seas and empty anchorages. The water comes down from Alaska on the Japanese current and is generally around 55 F.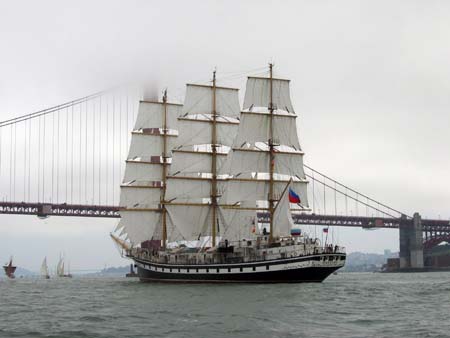 Square Rigger entering the Golden Gate in the Fog
The sailing scene is very lively with every summer weekend seeing multiple races and lots of day sailors along with tankers, ferries, container ships, tourist boats, fishing boats and barges. It is fun and exhilerating.If you don't care for the weather, you can always move into another part of the Bay for an entirely different micro climate. Our coastal destinations are: the Farallon Islands, Drake's Bay (under Point Reyes) and Montery Bay including Santa Cruz, Montery and Carmel. If you still have a sense of confidence after a number of summer sails out the Golden Gate and around the Farallons, you can probably sail with confidence in most any venue sailors gather.
San Francisco Bay is home to the Accidental Cruisers and their bay boat "Mostly Harmless". Since hurricane season in the Caribbean corresponds to our prime sailing season, we can sail year round by alternating between the two. Although this map doesn't show Alcatraz Island nor the Golden Gate, Bay or Richmond bridges, it still seems pretty accurate. Some of the coastline has shrunk and San Quentin is now found up by San Rafael. We live in Berkeley, directly across from the Golden Gate in the Peralta Ranchero. Mostly Harmless lives in Richmond in a marina shown here as a swamp, directly east of Angel Island.